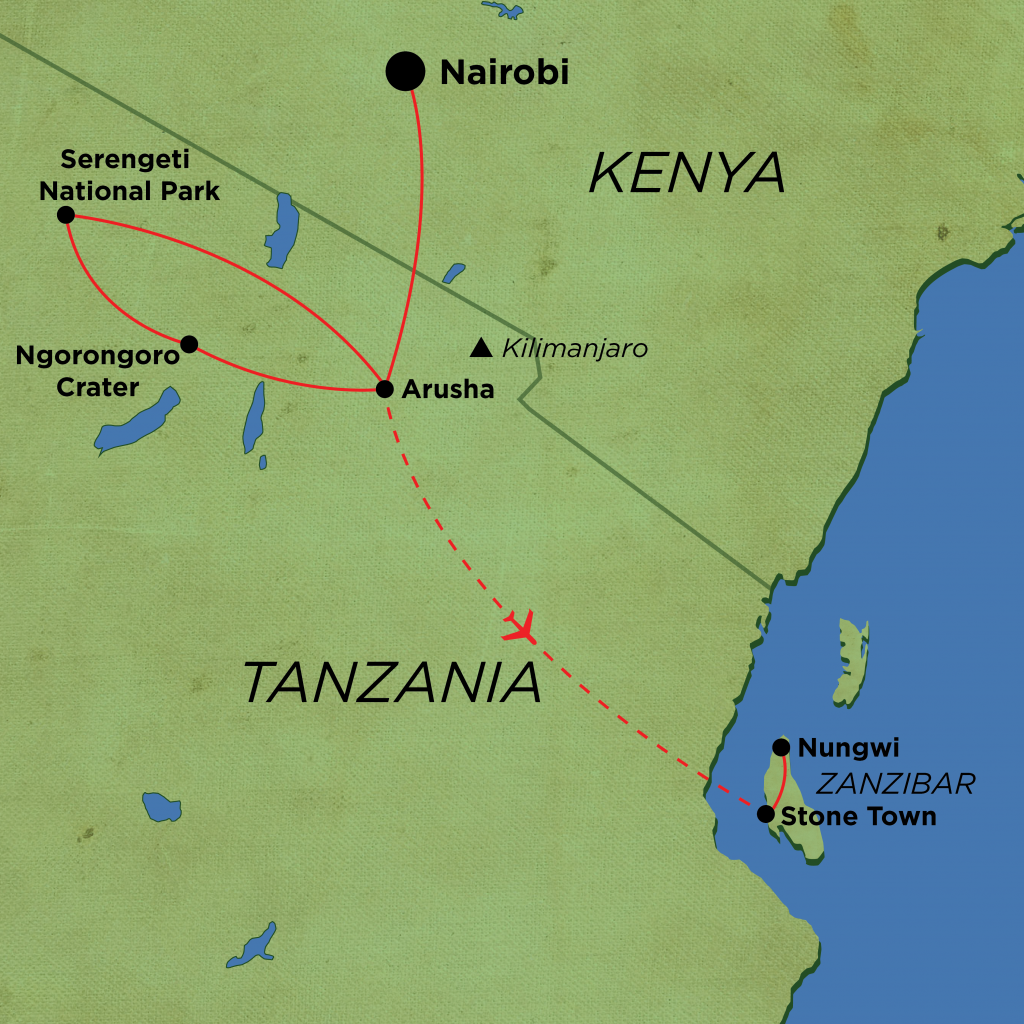 A trip to East Africa is a kind of adventure everyone has been dreaming about. It's time to check off your bucket list spotting the Big 5 on a safari, learning about the tribal cultures, and laying down on a white sand beach in Zanzibar. The trip includes overland travels from Kenya and Tanzania, allowing you to see the traditional lifestyle along the road and also learn it from the locals as you join our project in Arusha.
Arrival City

Niarobi

Departure City

Zanzibar

Included

Serengiti Safari

All Breakfasts

Mudita T-shirt

Ngorogro Game Drive

Project Donation

All Accommodation

Domestic Flight

Sunset Dhow Cruise in Zanzibar

Experienced Guide 24/7

Nairobi City Tour

Elephant Sanctuary Visit

Swahili Language Lesson

Optional: Hot Air Balloon

Not Included

Lunch and Dinner

International Airfare

Travel Insurance

Airport Transfers

Visa

Add-On Available
Get up close and personal with African wildlife on our 3 day safari in Serengeti and Ngorongoro National Parks.

Get busy building, refurbishing and renovating classrooms for over 600 students at our partner school in Arusha, Tanzania.

Wander the markets of Nairobi, Kenya and visit the ethically run elephant orphanage on the outskirts of East Africa's biggest city.

Splash in the turquoise waters as fisherman head out to sea, then sip cocktails and watch the sunset over Africa on the white beaches of Zanzibar.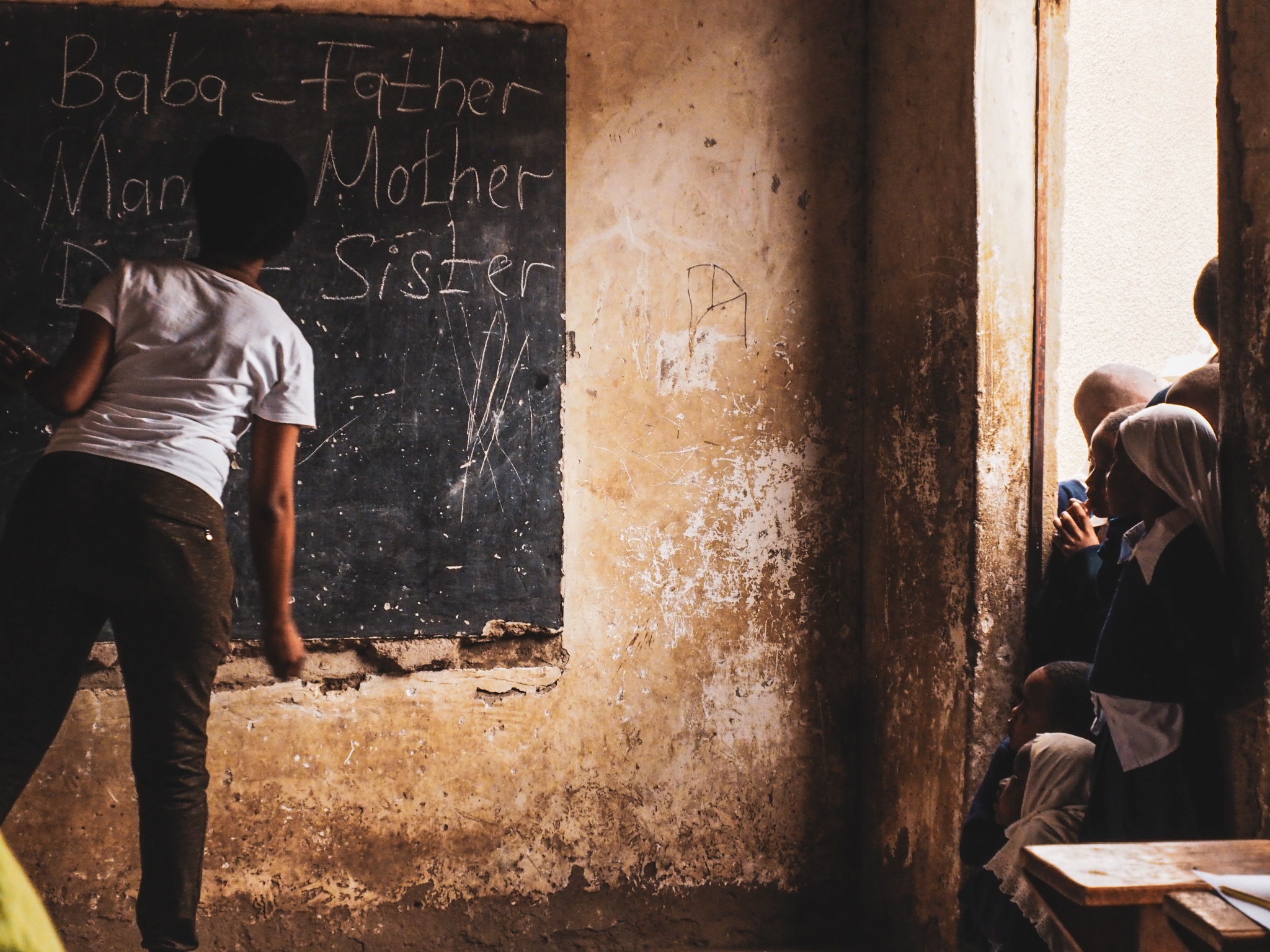 For this GiveBack trip we will be working with a  community in Arusha, Tanzania. The local school, where we will be assisting, is under supervision of the local governments of Kiranyiward and Siwandeti ward. They manage three primary schools, Ilkiurei Primary School, Olchoki Primary school and Natema Primary school. The Ilkiurei primary school is the local government school, built solely through the villager's self-funding and work ethic, it has since been helped partly through donations from foreign individuals. Currently the school has a total number of 667 students, 316 boys and 351 girls. The school maintenance costs are funded by the Government but the upkeep is left to the local Maasai community. Struggling for funding, you will see that the classrooms are falling apart. Additionally their equipment is lacking and despite the hard work by the teachers, they're constantly fighting a losing battle. We've been able to pledge 2 new refurbished classrooms for the community. This will allow the hiring of local engineers and labourers to take ownership of the project, and begin construction 4 months before we arrive, stimulating the local micro-economy but also ensuring engagement within the school and community. With the addition of our on site labour during the trip, that will allow us to add the final touches to these classrooms. A luxury appreciated so much by the kids and locals alike, but a touch that wouldn't otherwise be added. We will assist with painting the project, tidying up the area, landscaping and donating much needed additional supplies that will allow the classroom to truly feel like a place of learning.
1
Day 1
Welcome to Nairobi. We'll have an airport transfer waiting for each and every adventurer. Please schedule your flights to land before 6pm as we'll have a group dinner at a local restaurant at 7:30pm and maybe even a glass of wine, to meet the team. Tonight won't be a late one as we get used to the time difference (if any) and be ready to explore Kenya's bustling capital in the morning.
2
Day 2
Breakfast in Africa! Welcome, after kicking off the jetlag, we're off to the David Sheldrick elephant orphanage in Nairobi. Get ready for sights and sounds, an intensity like you've never seen before. After lunch we have an optional walking tour with former street kids and then some time to unwind before a final Kenyan dinner.
3
Day 3
Time for some real travel! We hop on our private transfer to the Kenyan/Tanzanian border. Get stamped outta Kenya, into Tanzania and then off to Arusha we go, Kilimanjaro as the backdrop throughout. Spectacular. Once we arrive in Arusha, we'll have our project coordinator come and join us for dinner to explain the great work they do here, and how your donations, and hard-work in the coming days will benefit the local community.
4
Day 4
Project time, it's time to get your hands dirty. Dress accordingly, your clothes will never be the same again. We hire people local to the community to carry out the bulk of the construction long in advance, so depending on how far along they are, your jobs could range from shifting sand & bricks, to painting the new classrooms, helping landscape the area, or putting up fences. Either way, factor in heat, sweat and smiles.
5
Day 5
Another day of blood, sweat and tears (hopefully we'll skip the blood!) as we make progress on our project. Expect a hot, hard day with plenty of painting, cleaning and fun. An evening cocktail could be a great award when we get back to our accommodation this evening.
6
Day 6
We're nearly there, or at least we should be if we've worked hard enough! The morning will be spent finalising all our various tasks, and then in the afternoon we'll have our unveiling at the official opening ceremony. Expect laughs, smiles and even a few tears amongst the big softies in our group. This is what travel, and giving-back, is all about.
7
Day 7
Hope you had an early night, because we are up for bucket list item this morning. Safari time! If we're lucky, we should be seeing HUGE numbers of animals, so keep those fingers crossed! Let's hope to spot the big 5 as we explore the Serengeti and the Ngorongoro crater, perhaps the most exciting place to safari on the planet. We'll be sleeping in tents amidst the wildlife that evening, keep your eyes peeled for those hyenas who love to enter camp.
8
Day 8
Another day of game drives amongst lions, rhinos, giraffes to name a few. Today we head to the UNESCO world heritage site of the Ngorongoro crater, where we hope to spot a rhino or two. Hope you have some spare battery packs, you'll need them. Tonight we'll sleep in tents on the crater rim.
9
Day 9
One last morning game drive to try to tick off those elusive animals, then we will be driving back to Arusha, spotting wildlife all the way back. Then we pop back to the hotel, grab our bags and head straight to the airport – Zanzibar is calling and we don't wanna be late! We'll reach charming Stone Town tonight, & after 2 nights camping in tents, treat yourself to a hot-water shower, wifi, and some well-earned home comforts!
10
Day 10
Finally, a lazy morning. Well, lazy-ish. A not-to-early breakfast at the hotel, then we'll have a brunch walking tour of the UNESCO world heritage site of Stone Town before jumping into our transport up north to Nungwi, where white sand paradise is awaiting us, just in time for sunset. A group dinner on the beach, and the evening is yours.
11
Day 11
Wake up to the sound of the waves crashing, Maasai warriors wondering the village of Nungwi on their days off, local villagers selling trinkets at every corner. Today you can explore the north of Zanzibar, or sit by the pool and read a book. Be ready to meet for the late afternoon Dhow cruise though, we have a local band joining us on our sunset Dhow boat trip. Grab a drink and let's watch the sunset over Africa.
12
Day 12
Our last day, how did that happen? Take the morning to reflect on an adventurous two weeks. Optional spice farm visits and snorkelling trips are waiting for you, but if you're joining the optional Kilimanjaro climb in a couple of days, a massage or two sounds like a better option to us. Tonight it's our last dinner as a group, tissues at the ready.
13
Day 13
That's all folks! It's the last day of the trip, we'll help you guys transit back to StoneTown, if you've booked flights back to Nairobi, or want the ferry back to Dar Es Salaam (Tanzania's Capital), we'll help you there too. For the Kilimanjaro climbers, we can help you get transportation arranged to get to Moshi where you will start your climb. We hope to see you for another project in another corner of the world soon.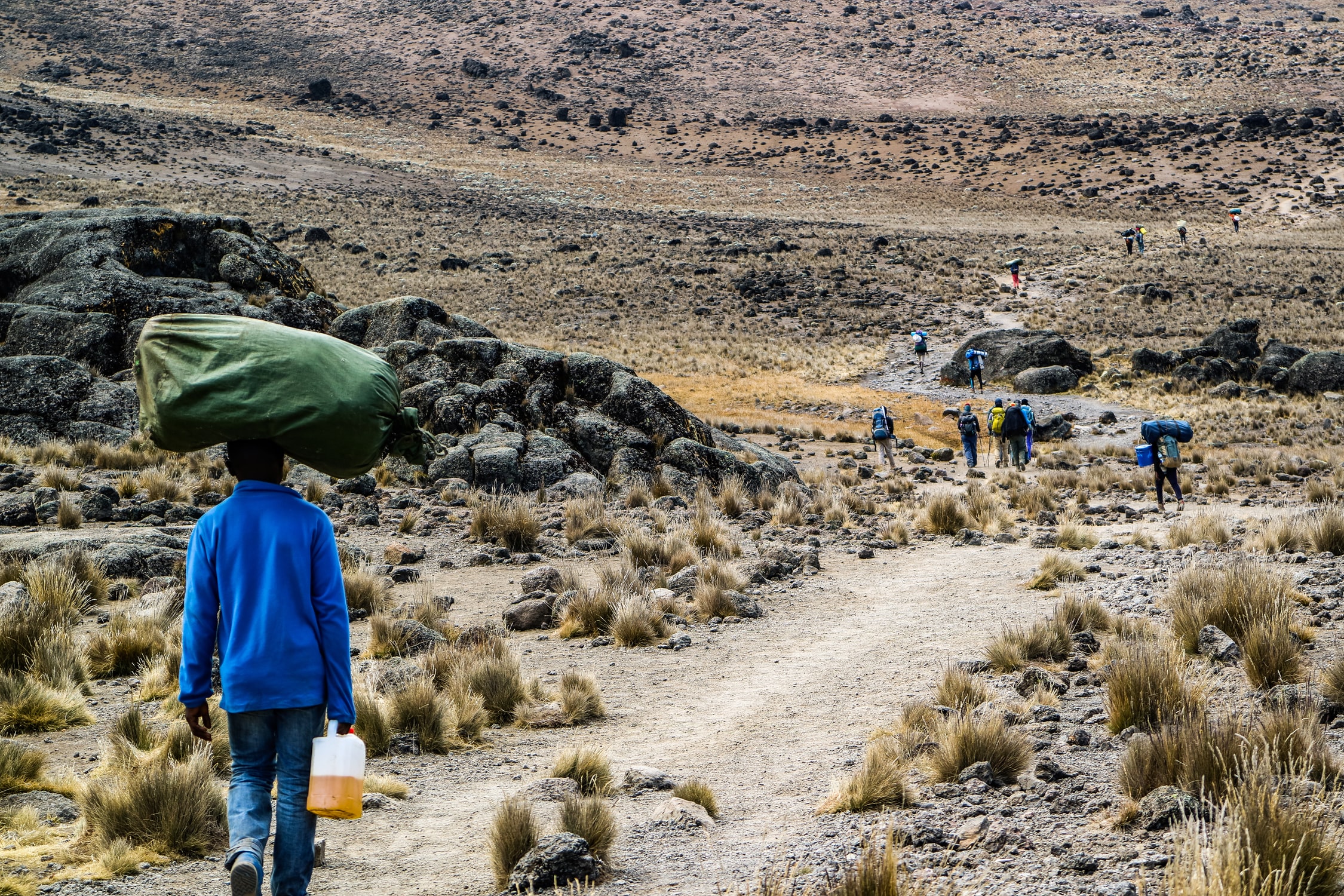 Complete the ultimate challenge and make your way to the top of the world 7 summits. The Lemosho Route is widely considered to be the best route on Mount Kilimanjaro Lemosho is preferred by reputable operators due to its beauty, remoteness and success rate. In short, it maximizes the chances that a climber will reach the summit, and enjoy the experience overall. Let's get you to the top of Africa!
Arrival City

Moshi

Departure City

Moshi

Not Included

Visa

Travel insurance

Sleeping bag

Airfare

Trekking Gear