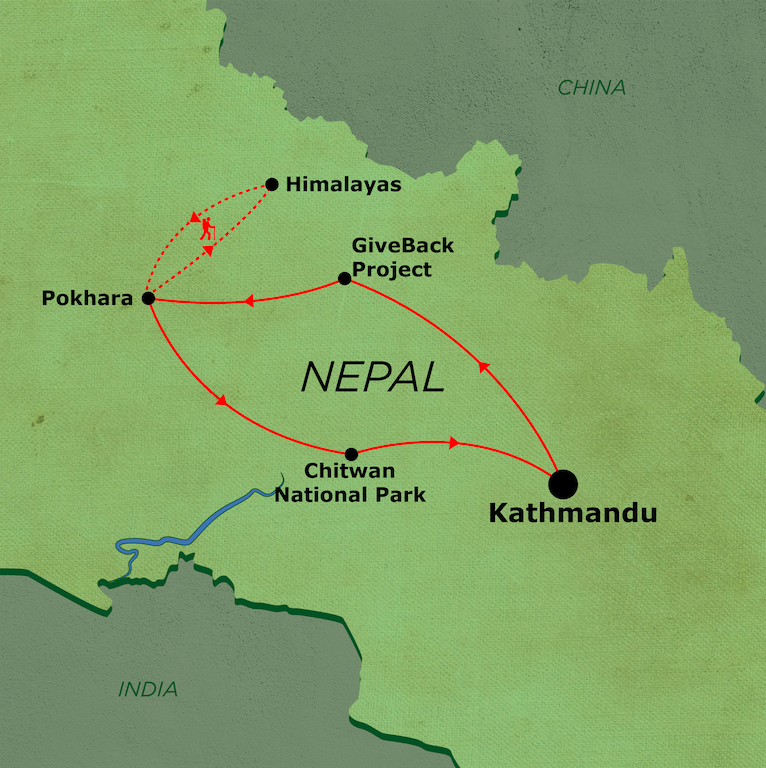 Enjoy fresh air, stunning scenery and friendly people? Great, Nepal is for you! This epic country boasts many of the tallest peaks on the planet. Along with the many beautiful mountains, Nepal is also vastly rich in culture. Nepal has had some trails in the last years with natural disasters like earthquakes, landslides and economic struggles. Come with us as we seek out the beauty, heritage, wildlife and picture-perfect landscapes and help a deserving community along the way.
Arrival City

Kathmandu

Departure City

Kathmandu

Included

Chitwan NP Entrance

All Breakfasts

All Transportation

Experienced Guide 24/7

3 Day Himalayan Trek

Project Donation

Mudita T-shirt

Kathmandu Day Tour

All Accommodation

Optional: Paragliding Pokhara

Optional: Everest Flight

Not Included

Lunch and Dinner

International Airfare

Travel Insurance

Airport Transfers

Visa

Add-On Available
Dodge primates at the beautiful Monkey Temple in Kathmandu, one of Nepal's Holiest spots, with epic views overlooking the old city.

Be there as we make an impact to our partner community that's still reeling from the effects of the enormous earthquake that hit the country in 2015.

Amplify the experience of the Himalayas while on a 3 day trek into the mountains and awe at the wild beauty of this famous mountain range.

Join a game drive in Chitwan National Park home to the Nepalese Rhinos, and keep your eyes peeled for the elusive, beautiful Bengal Tiger.

Get lost in the backstreets of the Thamel District. Local markets, Nepalese trinkets of every corner, find a roof top to escape the madness and sip on a tea or a local beer, the escape will be very welcome.
The earthquake in Nepal in 2015 decimated the country, over 8,000 dead, 22,000 injured and countless homeless. Help us work with our partner community to regenerate a small local community. In conjunction with our local partners on the group in rural Nepal, we'll be lending a hand with the reconstruction of their damaged infrastructure, as always with a focus on education.
1
Day 1
Arrive in Kathmandu anytime. Then dinner and drinks to meet the group in one of Kathmandu's local favourite haunts.
2
Day 2
Spend the day with our local guide, exploring the best of what ancient Kathmandu has to offer. Keep hold of your iPhone when we climb the 350 steps of the famous Monkey Temple, one of Nepal's most holy spots, offering epic views of the city, and a few primates to keep you on your toes! On to the Dubur square, a UNESCO world heritage site no less, which has been around for over 1000 years. Then wander the back streets of the Thamel district, trying local delicacies before a group dinner overlooking the streets.
3
Day 3
Back to our backpacking routes. We leave our cute hotel early in the morning and head on the local bus through the Himalayas to Pokhara, home to Nepal's best trekking areas. Located on the side of the atmospheric Fewa Tal Lake, we'll arrive in time for our charity project briefing from our partner community, a delicious dinner and an early night ready for the hard work tomorrow.
4
Day 4
Time to get your hands dirty. Our partner project, in the foothills of the Himalayas, is still recovering from the horrific 2015 earthquake, killing in excess of 8,000 people and rendering 10s of thousands homeless. We're still in talks with the community as to how best allocate our funds to their needs, regardless of what they decide, it'll be hot, sweaty and hugely worthwhile.
5
Day 5
Another full day at our partner project, painting, manual labour, and a few coke breaks to keep the sunstroke at bay!
6
Day 6
A final early start to make sure we get all our allocated work complete in time for the opening ceremony. The local community will have been working on our project for weeks by the time we get there, we will help furnish and finalize, then an intimate religious blessing ceremony and the work is complete. Time to prepare your mind for the travel stuff, we're off to Pokhara tonight to celebrate.
7
Day 7
We have the full day to explore Pokhara today. An optional early morning on the lake beckons, rowing across the mirror-reflection, snow-capped mountains as a backdrop, monkeys calling you from the forest. Or perhaps you want to parasail off the mountain?  You'll wish all Saturdays were like this. After the scenic morning, for the brave among us, time to test those hiking legs with an optional 1 hour (steep!) climb to the World Peace Temple for views of the lake. The views make the climb all the more worthwhile, earning these experiences make them taste even sweeter.
8
Day 8
You can't visit Nepal without hiking in the Himalayas. After breakfast, we'll check your gear, and then make our way to the mountains for 3 days of clean air and mountain views. Hope you've been doing your squats, there's a lot of hills in these mountains! We'll be sleeping in the famous Nepalese tea houses, snuggled up by the fire, swapping travel tales. A perfect end to Day 1 of our hike.
9
Day 9
Waking up in the mountains just feels right. After breakfast it's all about the Himalayas. Today, we'll be making our way to 'Austalia Camp'. Expect 4 hours of hiking with a delicious lunch break on the way, full of Nepalese momos. If weather is nice (keep your fingers crossed!), we will have nice the Himalayas staring right back at us. Another tea house for a warm dinner, some tea and even time for a local beer.
10
Day 10
Aaaaaand you did it. One last morning in the mountains, hot coffee will soon warm those chilly hands. Soak up the views for our hike back down to the transport. It's a lot easier hiking this way. Before long you'll be back in Pokhara, with a hot shower, a touch of WiFi and ready for an afternoon off and a group dinner on the lake.
11
Day 11
Pokahra, you've been amazing, but the road is calling us. Our private bus will pick us up right from the hotel bright and early and help us traverse half of the Nepali countryside, into the thick of the impressive Chitwan National Park. After a spot of lunch, we'll enter the park, keeping our eyes peeled for the Bengal tiger. The park is home to Rhinos, Boars, Elephants and many more species. There might even be time for a little cultural dance with dinner.
12
12
Boat trip with a few crocodiles dotted around us? The Rapri River offers us exactly that, just keep your hands to yourselves! We'll also check out the elephant breeding centre and venture into the jungle for one last walk before a snack and the drive back to Kathmandu.
13
Day 13
Say it ain't so! Alas, it is. You guys are outta here. You can squeeze a lot into 2 weeks on a Mudita adventure. Go and rest, recuperate and we'll see you on the next one!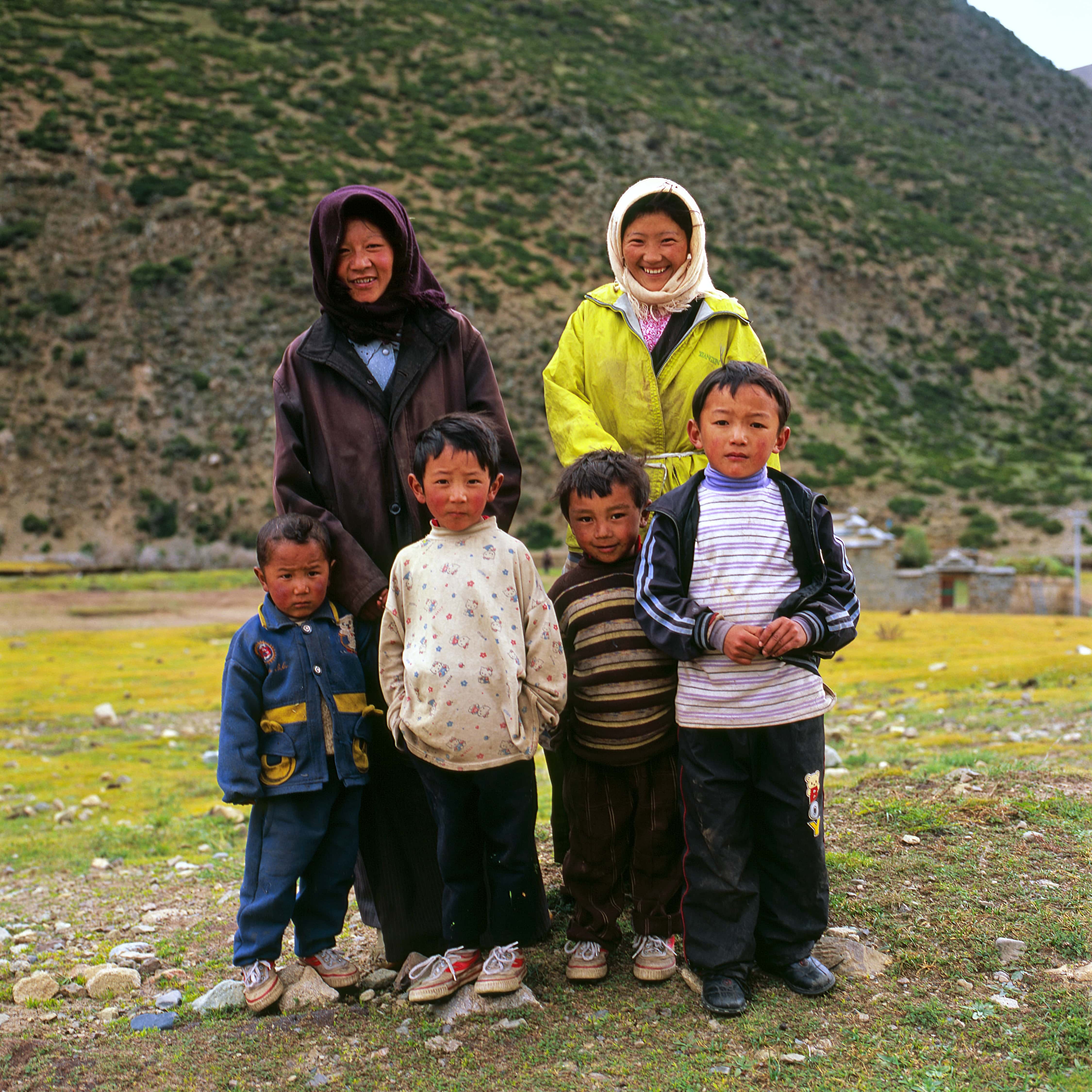 Arrival City

Kathmandu

Departure City

Lhasa

Not Included

Visa

Travel Insurance

Airport Transfer