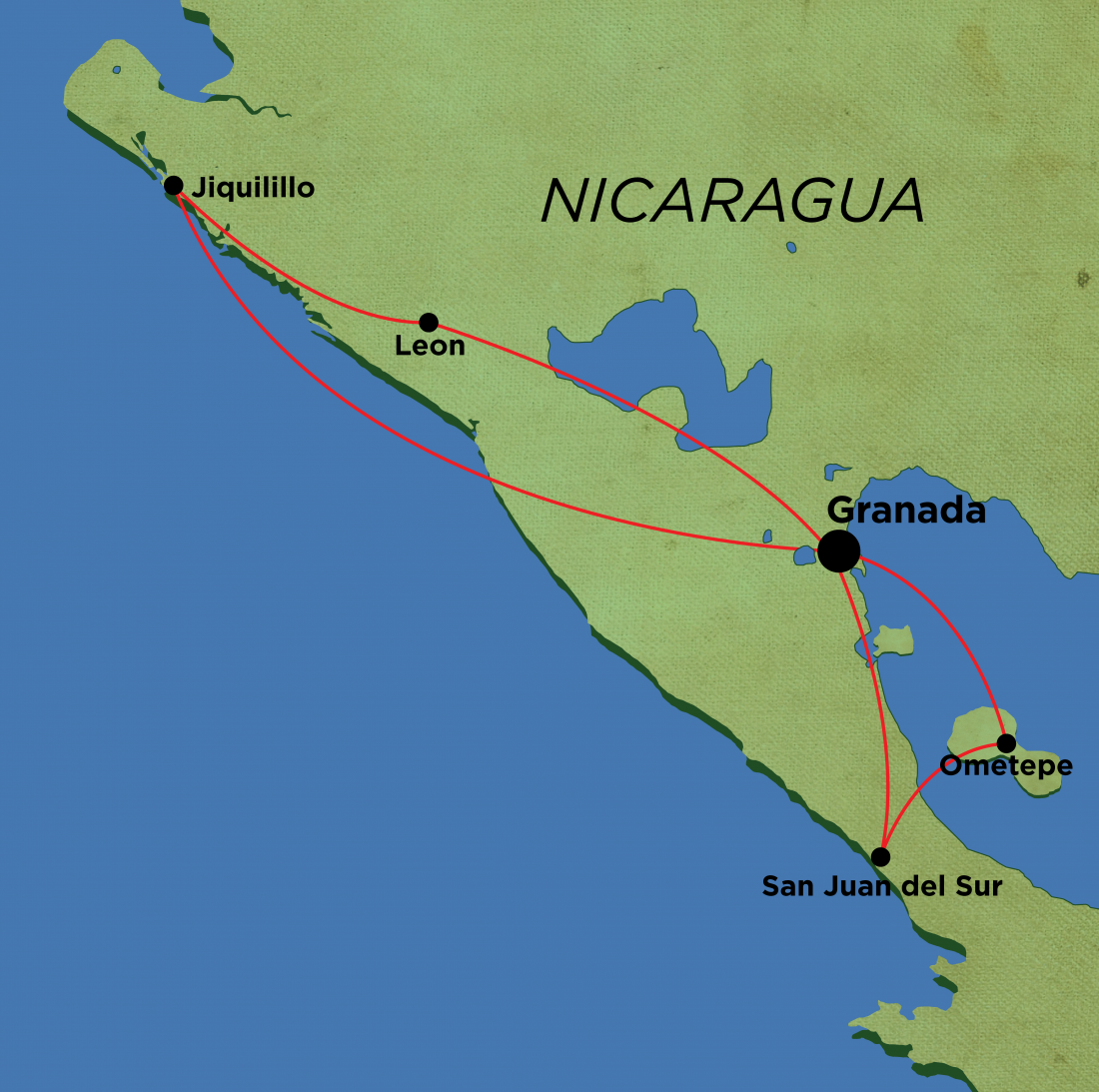 Locating between the Caribbean Sea and the Pacific Ocean, Nicaragua is known as the Land of Lakes & Volcanoes. It's a heaven for nature lovers and mountain enthusiasts. You can hike, camp, and even board down the active volcanoes here. Enjoy the lively atmosphere and check out the colonial architecture that will throw you back in time.
Arrival City

Managua

Departure City

San Juan del Sur

Included

Volcano Boarding

All Breakfasts

All Domestic Transportation

Turtle Hatchery Visit

Experienced Guide 24/7

Project Donation

Mudita T-shirt

All Accommodation

Spanish Language Lesson

Granada City Tour

Hike Mombacho Volcano

Isla de Ometepe

Not Included

Lunch and Dinner

International Airfare

Travel Insurance

Airport Transfer

Visa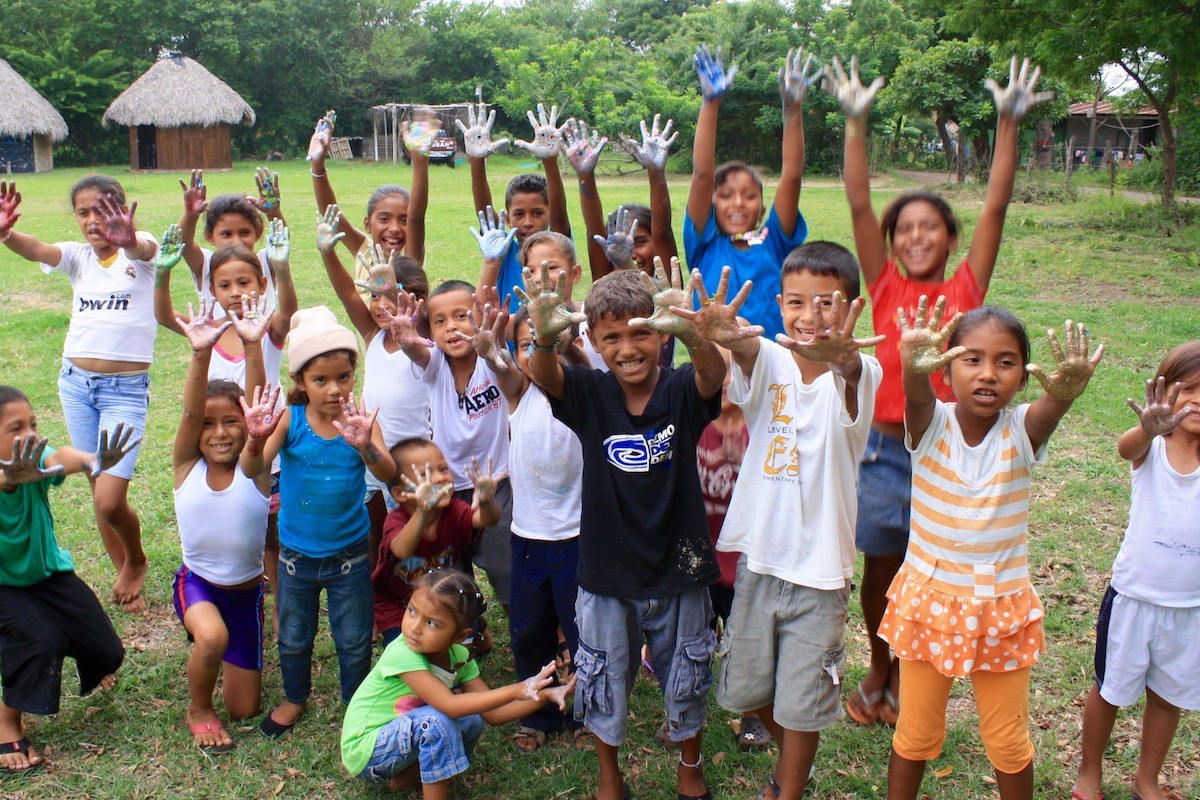 Mudita Adventures is collaborating with
Puentes de Esperanza
, a non-profit organization that provides the tools and support necessary to empower low-income communities through education. They have been working with many volunteers in Nicaragua and within the Jiquilillo community for over 14 years. Their team has an established an ongoing relationship with the local teachers, parents, and students, as well as the director of the school, and the Ministry of Education. They run a number of projects that focus on education, including school sponsorships, an after-school program, tutoring and homework help, community guide training, English classes, school support and assistance, capacity-building workshops, and local business development assistance. Puentes de Esperanza is both underfunded and under-resourced. Classes at both schools are overcrowded. At the primary school, over 60 children in two different grades are often taught in one classroom and under the guidance of one teacher. We want to offer the teachers materials and supplies they need to provide a productive learning environment. So on this project, we will be working at the primary school to replace desks and chairs and build a playground so the children have a safe and fun place to play during recess. All our infrastructure projects are conducted and carried out with local, skilled labor, under the supervision of local foremen and ourselves. Join the team and come volunteer in Nicaragua with us!
1
Day 1
Arrive in Managua anytime, the first evening in we're off for dinner and drinks to get to know each other, then off to bed ready for the transfer to our project the following morning.
2
Day 2
In the morning we will travel up to Jiquilillo a town on the northwest coast of Nicaragua. In the afternoon we'll meet the students and teachers at our partner school, where we'll have a full debrief about our the school and what great work our partners are they're doing there.
3
Day 3
Time to get your hands dirty. Today is day 2 of our project, playground installation should be well underway by our local engineers, painting the school, sourcing much-needed supplies and then sunset on the beach as a reward for all the effort.
4
Day 4
Day 3 of our project. Early start and back to work folks! We'll have a better understanding of where we need to focus our efforts after a solid effort yesterday and it'll be all hands to the pump to get ready for the opening ceremony tomorrow. Our accommodation is beachside, so we'll try to get back in time for some sundowners.
5
Day 5
Get ready for an ear to ear smiles. The kids will get their first every playground today! Depending on how hard we've worked, we'll either be grafting like maniacs all morning to get things ready or have a more leisurely morning with the kids, ready for the afternoon opening ceremony and some games. This is what it's all about. Make sure that camera is charged! One last night in Jiquilillo, and we're off.
6
Day 6
A lazy morning beachside after all your hard work, sweat and tears. Then we'll be transferring to Leon, where we'll check-in and then have a relaxed walking tour of the city before setting in for some local food and drinks by sunset, ready for some adventure tomorrow!
7
Day 7
Nicaragua's biggest claim to fame – volcano boarding! Yup, you heard that right. We'll be boarding (sitting on a board and whizzing down) a live volcano, Cerro Negro. Black ash, fast speeds, lots of adventure. Followed by an evening off to soak up Leon's beautiful colonial vibes.
8
Day 8
Chicken bus time. Central America is famous for its chicken buses, so this morning we'll be boarding one for a couple of hours to get to Granada, the most charming colonial town in all of Central America. Spend the afternoon eating local food and exploring all the nooks and crannies that Granada has on offer.
9
Day 9
Hiking the Mombacho Volcano is on the cards for today, amazing views and nothing overly strenuous, the whole activity lasts around 6 hours. Tree frogs aplenty, lush rain-forest and epic sights.
10
Day 10
Today we'll head to Isla De Ometepe, an ancient volcanic island in Nicaragua and an absolute must-see. After the ferry we'll settle in after lunch, if you're feeling adventurous, bike rental is available and away you go!
11
Day 11
Free day on Isla de Ometepe, volcano hiking, waterfall hunting, kayak rental. This place is the paradise for either a super chill day to recover or for those who are looking for something a little more exciting!
12
Day 12
We'll catch a ferry back to the mainland and transit to the quaint but lively coastal town of San Juan Del Sur. It's time to unwind seaside for our last few days.
13
Day 13
A final day to relax around the beach and soak up the sun. Use this time to do some optional activities like, surf, fish, zipline, horseback ride, snorkel, or just be a beach bum.
14
Day 14
Time for those teary goodbyes. The tour is over! Today some will transfer back to Managua to catch your flight out,  but feel free to stick around in San Del Sur for one last bash for the famous Sunday Funday, that's certainly our plan!