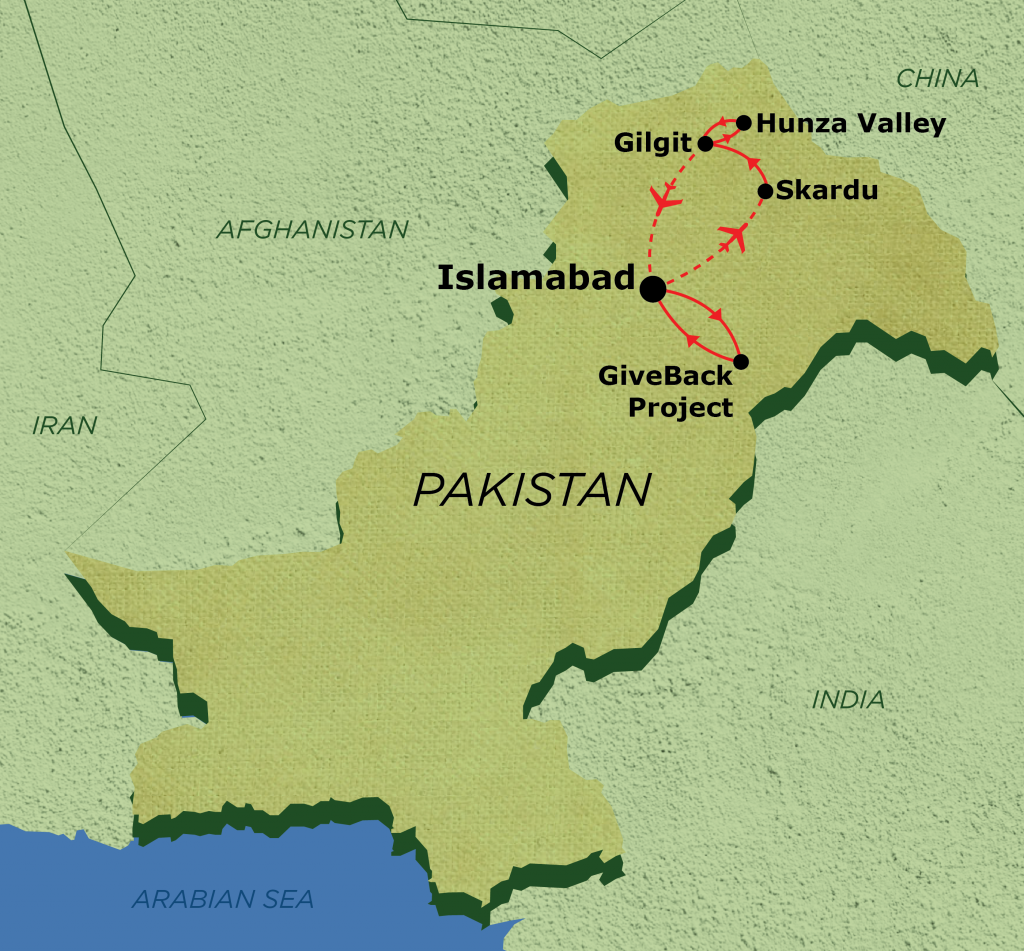 This is going to be your trip of a lifetime – explore the untouched nature, meet one of the friendliest people on earth, and learn about the traditional life along the borders. Mudita Adventures is partnering with a local NGO in the city of Sialkot where we will help install water pumps and toilets for the villagers to live in hygienic conditions and maintain a healthier lifestyle.
Arrival City

Islamabad

Departure City

Islamabad

Included

Karakoram Highway

Breakfast

All Domestic Transportation

Borith Lake

Experienced Guide 24/7

Islamabad City Tour

Mudita T-shirt

Domestic flights

Airport Transfers

All Accommodation

Project Donation

Gilgit bridge Visit

Not Included

Lunch and Dinner

International Airfare

Travel Insurance

Visa

Add-On Available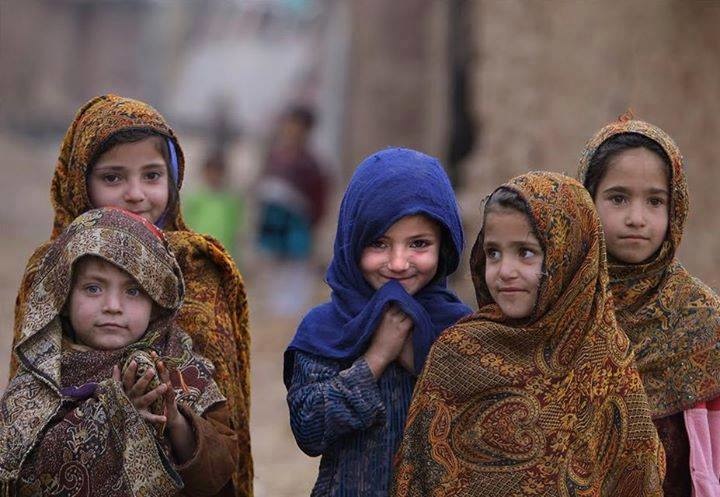 Our partner community in Pakistan is about 5 hours south of Islamabad, in an impoverised region of Sialkol. After discussing with their leaders and elders due to various outbreaks, they've decided both water pumps and toilets in the village areas are their pressing concern. We're aware that perhaps this isn't the attractive prospect of a classroom but it's absolutely vital to the progress of the community on so many levels, hygiene first of foremost, but also to allow women to wash safely and in private and of course to enable families to maintain a certain level of dignity. With that in mind, we are building 10 Public Toilets in different villages in the City of Sialkot . Along with 10 villages obtaining new water pumps. Around the world, children from infancy to five years of age have the highest mortality rate due to water-borne diseases, with the equivalent  of nine busloads of kindergarten children dying every day in Pakistan. It doesn't need to happen. It shouldn't happen any more. When people don't have access to clean, potable water, they experience a lack of education, jobs, and opportunities. This forms a vicious cycle that perpetuates poverty. So our GBGA team have stepped in to fund and install water pumps in 10 different locations. Finally, the community has asked to help at the local school. There are a group of kids who study every day, but are struggling with the means of education. No school bags, no pencils, no pens, so our volunteers will spend the morning at the school, replenishing the school and the kids with everything they need to continue their studies.
1
Day 1
Arrive in Islamabad anytime today, we'll have your airport transfers organized and you'll be brought straight to the hotel. We have an evening briefing for the group to hear about the adventure that lies ahead, then a group dinner in a rooftop restaurant overlooking the mountains.
2
Day 2
Time to explore Pakistan. We have a 5-hour drive to our partner community, but try not to nap. If this is your first time to Pakistan, the sights, and sounds from the drive will be something you never forgot. When we reach Sialkot, we'll check-in and have a briefing from your project coordinator about the work to be carried out.
3
Day 3
Water pumps and toilets. We'll take a tour of the community this morning before tea with the elders. After that, both today and tomorrow, we'll be focused on installing, construction the walls, painting the bricks. And repeat. Depending on how much work the locals have managed to accomplish, we may be working pretty hard the next couple of days!
4
Day 4
More of the same hard graft today. We hope to install 8 toilets and 8 water pumps, so that's a lot of digging, a lot of construction and a lot of painting. Hope you don't mind getting your clothes a little roughed up, time to get to it, people!
5
Day 5
We're off to our partner school today. Our coordinator has given us a list of things that the kids have been lacking for years, so we've stepped in to help them out. This morning we'll have a little ceremony, tour the school, donate what they've requested and hopefully have a little time for a mini sports day! That evening we make our way back to Islamabad for the adventure to really begin.
6
Day 6
Explore Islamabad, Pakistan's capital with us. From the delicious local food, the spectacular to the famous Faisal Mosque, not without a stop at Daman-e-Joh viewpoint. Islamabad as you never thought it could be.
If our local coordinator can source a non-local declaration, we may even try Pakistani beers from the Murree Brewery. Leave it with us!
7
Day 7
Off to the airport, awe-inspiring Kashmir awaits. We're proud to be the only company in the world to offer these crazy adventure tours with a social conscience and to have the opportunity to visit Kashmir is one of those adventures indeed. We'll fly into the heart of Gilgit Baltistan, and the next 5 days we'll be lost amidst the snow-capped Himalayas as we hike, and drive through the Skardu and Hunza Valleys, just off the Karakoram highway
8
Day 8
We'll explore the Gilgit area today, checking out the Kargah Buddha, the Gilgit bridge (hope you're not scared of heights, the largest suspension bridge in Asia!) over the fast flowing Gilgit river, at the end of its traditional bazaar and the Monument of Taj Mughal.
9
Day 9
Moving onto Skardu, the capital of Baltistan. Perched 2,438 meters above sea level in the backdrop of the great peaks of the Karakorams. Balti people are a mixture of Tibetan and Caucasian stock and speak Balti, an ancient form of Tibetan. Due to the similarity of its culture, lifestyle, and architecture with Tibet, Baltistan is also known as the "Tibet-e-Khurd" (Little Tibet).
10
Day 10
Onto the mountainous area of Hanza, where the fair-skinned and light-eyed Hunzakuts claim to be descendants of soldiers lost from Alexander's army as he invaded India. Hunza Valley is the inspiration for the mythical valley of Shangri-la in James Hilton's 1933 novel Lost Horizon and time permitting, we'll get to see spectacular Rakaposhi pass and the ancient Baltit fort.
11
Day 11
We'll begin to make our way back through the mountains, down the Karakoram highway, slowly back to Gilgit. 3 of the world's longest glaciers in the region, so we'll check one of them before home along with the epic Borith Lake. Surrounded in 6000m peaks, the landscape is breathtaking, you won't want to leave, but back to Gilgit, we go.
12
Day 12
We'll have brekkie together at the hotel, and then back to Gilgit airport, for our transfer back to Islamabad, where the trip officially ends. That is, unless, you're going us on THE most epic overland adventure there is. Through the Karakoram highway, through the Himalayas, all the way to 5000m, and into China and beyond. Come join us!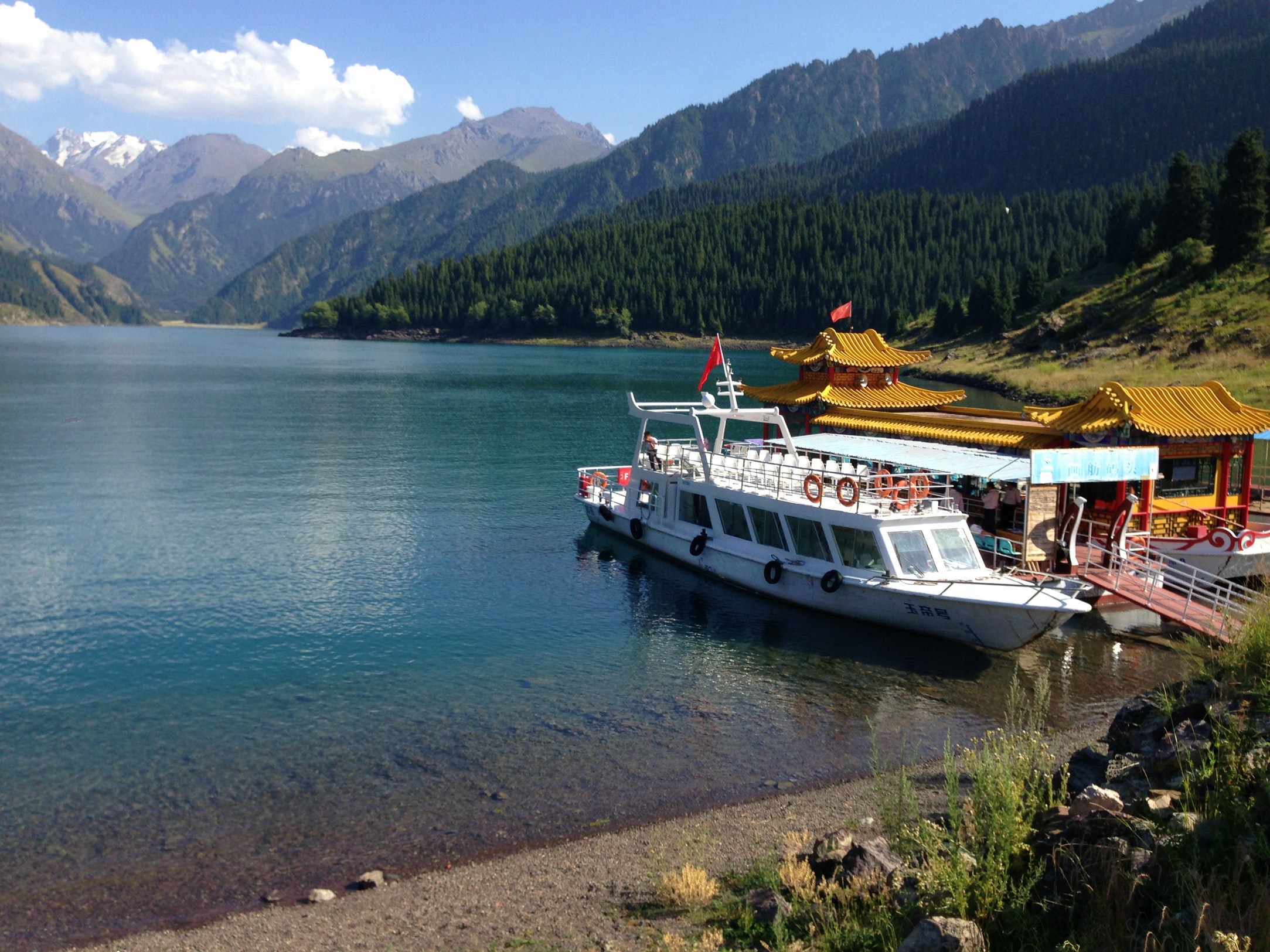 Arrival City

Gilgit

Departure City

Urumqi

Not Included

Visa

Travel Insurance

Airport Transfer