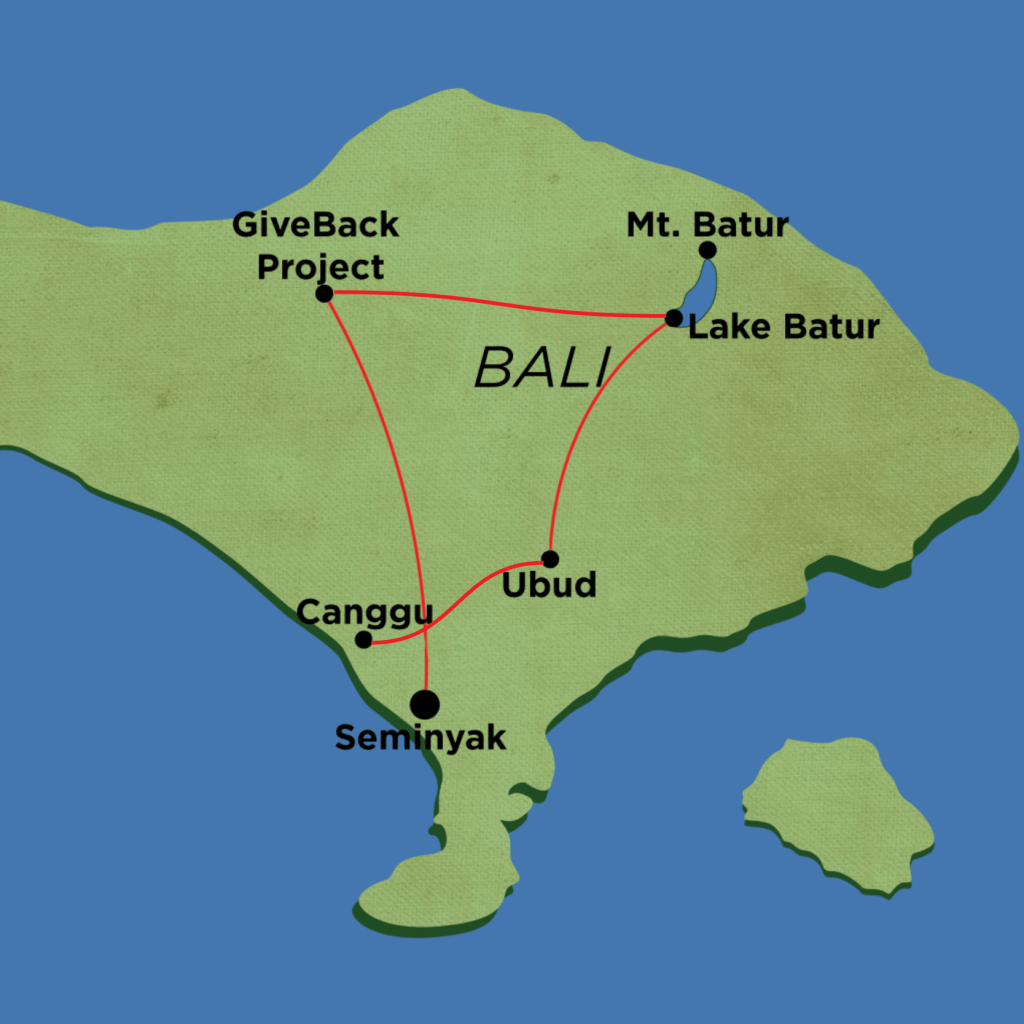 Bali has become one of the world's top destinations for its unique culture and diverse terrains across the island. Get ready to explore the volcanic mountains, beautiful beaches and coral reef, and the traditional way of life along the road as we roam through the island. Join us for the unparalleled experience on our Mudita project while earning the stylish holiday you deserve.
Arrival City

Seminyak

Departure City

Canggu

Included

Sunrise Climb of Mt Batur

Private 5 Star Villa

All Breakfasts

Day trips & Excursions

Experienced Guide 24/7

Project Donation

Mudita T-shirt

All Accommodations

All Temple Entrance Fees

Waterfall Visits

Transportation

Not Included

Lunches and Dinners

International Airfare

Travel Insurance

Airport Transfers

Visa

Add-On Available

Gili Islands & Mt Rinjani
An early morning hike up Bali's gorgeous active volcano, Mount Batur. The views of Lake Batur are worth the effort alone, we promise!

In cooperation with Bali Children's Project: Here at Mudita headquarters, we truly believe that education is the only medium that can truly break the cycle of poverty both in Bali on this project, but globally. So while Bali is indeed a paradise for many, there is another side which most of us never see. When the curtain is drawn back, for most of Bali's rural population, life is very different from the emotive images portrayed in bright tourist brochures. Here, in stark contrast, there are no sparkling coral beaches, only hour upon hour of back-housebreaking toil in the oozing mud of the rice terraces, interspersed regularly with colorful, complex rituals overseen by priests to ensure the gods look favorably on the people and the endless cycle of labor. These rituals, and the offerings which always accompany them, take hours of labor, mostly on the part of the women. Even in heavily visited areas, there remain many families who see little of the economic benefits tourism supposedly brings. Our continued projects here hope to alleviate that, in any tiny way we can. Refurbishing a school and building a library can allow children within these rural communities to flourish, and to begin to dream of a life beyond Bali. So let's help them. One project at a time.
1
Day 1
Arrive in Bali anytime. Sunset dinner and drinks while we catch our first Bali sunset, beachside.
2
Day 2
After brekky, we'll head on our private bus to our partner community. We'll use the time to get to know each other a little better, and prepare ourselves for the hot & sweaty work ahead! Once we arrive, we'll check-in, where our project leader will brief you guys about just why we're working with them, the good that your money has done, and the work that you've signed up for.
3
Day 3
Day 1 on our project. As many of our returners can testify, the projects can be hard work, so we hope you're ready. Depending on how far the construction has progressed with the local staff we have been hiring over the last few weeks, jobs can include lugging bricks, shifting sand, painting the buildings and of course playing with the kids.
4
Day 4
The second day of the project. Hopefully your body isn't hurting too much, and you kept the sunburn at bay. After our first project day, day 2 should be a breeze. You'll know exactly what you have to get done in order for the project to be ready to open. So hop to it!
5
Day 5
This one could be an early start! It depends on how hard we've been working but today is opening day! So if we've stayed on top of our workload, we'll work all morning, have lunch and then have a local religious opening ceremony to bless your generosity and graft. If we've fallen behind, we'll be up at sunrise to get here and get the work finished. Let's do it folks.
6
Day 6
After we said goodbye to the impossibly cute kids, and the warm vibes from our partner community last night, today is the day we start our rewards. We're heading for Mount Batur and Lake Batur, but we'll be stopping off at some pretty special places on the way. When we arrive lakeside this evening, we'll want an early night, tomorrow morning starts with a bang.
7
Day 7
Wakey Wakey, rise and shine campers. We're hiking up Bali's most active volcano. Eeeek! Don't worry, it's safe. But leave the flip-flops in the hotel and get on your sports shows. The hike isn't super difficult, so we'll all make it up and down. The views, the jungle, the sense of accomplishment, and the views again. Seriously, just wow! Back down for a late breakfast, a well earned shower. We're off to Ubud, Bali's gorgeous cultural centre. En route to Ubud we'll be making a few stops to some spectacular view points and ancient temples. Check-in. Shower and dinner together as our backpacking trip is officially underway.
8
Day 8
From experience, we know you guys are shattered after flying from all around the world to gather in Bali, then all that hard work for the first 4 days or so. Don't worry, finally you get a lazy morning. No wake-up call today. Then you can chill in Ubud or spend the day having a full body massage for under $10, sipping on fresh fruit smoothies and maybe finding time for the odd Bintang beer. We'll have an optional group lunch in our favourite Ubud spot, it's spectacular, we promise.
9
Day 9
Time to see just why Ubud is the place on everyone's lips at the moment. We're off to explore Ubud and its surrounding and within an hour you'll understand where all the hype comes from. First stop, meet some very mischievous friends at the monkey forest. If you've never had a monkey jump on your back, this morning will probably change that! As we move on, there are Bali's most famous rice terraces, some of the most beautiful Balinese temples you can imagine, and your first Balinese waterfall. Keep that camera battery charged.
10
Day 10
We're off on our way south to Canggu, but not before we squeeze in another of Bali's most beautiful waterfalls, and a couple of viewpoints. Today is truly an epic day. And just wait and see where we're staying tonight in Canggu!
11
Day 11
The villa looks good, and a late breakfast sounds even better. Enjoy your half day-off. Rent a scooter, grab another massage, tan those buns on the beach. We have a gorgeous half-day tour planned, finishing up with sunset by the famous Tanah Lot temple, then it's a group dinner so save enough energy for our last night this evening. Tears? We fully expect them!
12
Day 12
We're less than an hour from the airport, so that teary goodbye isn't too drawn out at least. We're pretty confident you've just signed off on one of the best trips of your life, and we'll see you on the next one! Unless…
Gili Islands & Mt Rinjani
Lombok has just as much to see and do as its popular neighbouring island of Bali.  We take on the best of the place in island in a few days. Epic mountain vistas and then some rest and recovery on the scenic beaches of the Gili Islands. Hiking, water sports, and some relaxing with a cocktail while watching some of the best sunsets in Indonesia.  Pack in all into this few day adventure. *Note: This add-on can be purchased even if you are not in our main trip. Please contact team@muditaadventures to arrange a meet-up location and get a separated quote.
Arrival City

Dempasar

Departure City

Gili

Not Included

Airfare

Lunch & Dinner

Travel Insurance

Other optional activities