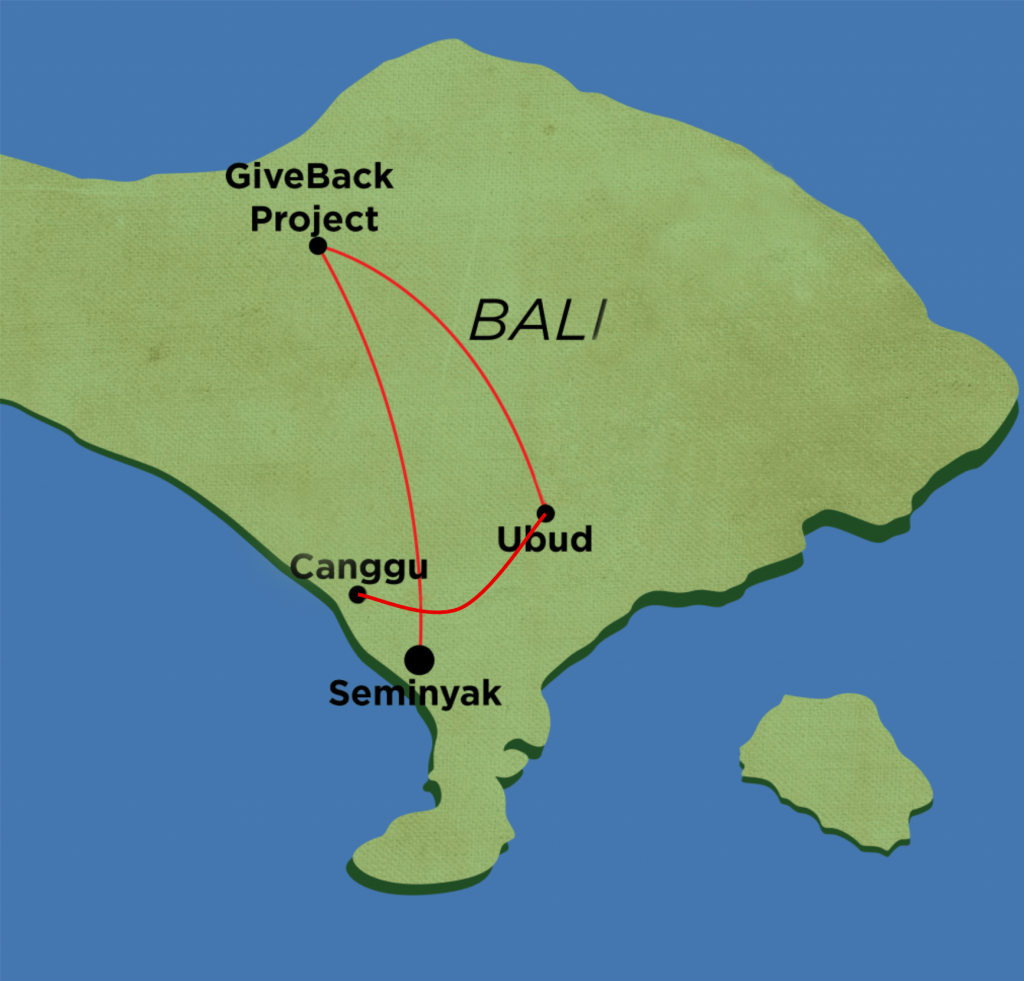 Bali has become one of the world's top destinations for its unique culture and diverse terrains across the island. Get ready to explore the volcanic mountains, beautiful beaches and coral reef, and the traditional way of life along the road as we roam through the island. Join us for the unparalleled experience on our Mudita project while earning the stylish holiday you deserve.
Arrival City

Seminyak

Departure City

Canggu

Included

All Accommodation

All Breakfasts

Private Transportation

Temple Entrance Fees

Experienced Guide 24/7

Project Donation

Mudita-GLT T-shirt

Private Yoga Class

Massage Treatment

Private Luxury Villa For Final Nights

Bahasa Language Lesson

Day Trip To Nusa Penida

Not Included

Lunches and Dinners

International Airfare

Travel Insurance

Airport Transfers

Visa

Add-On Available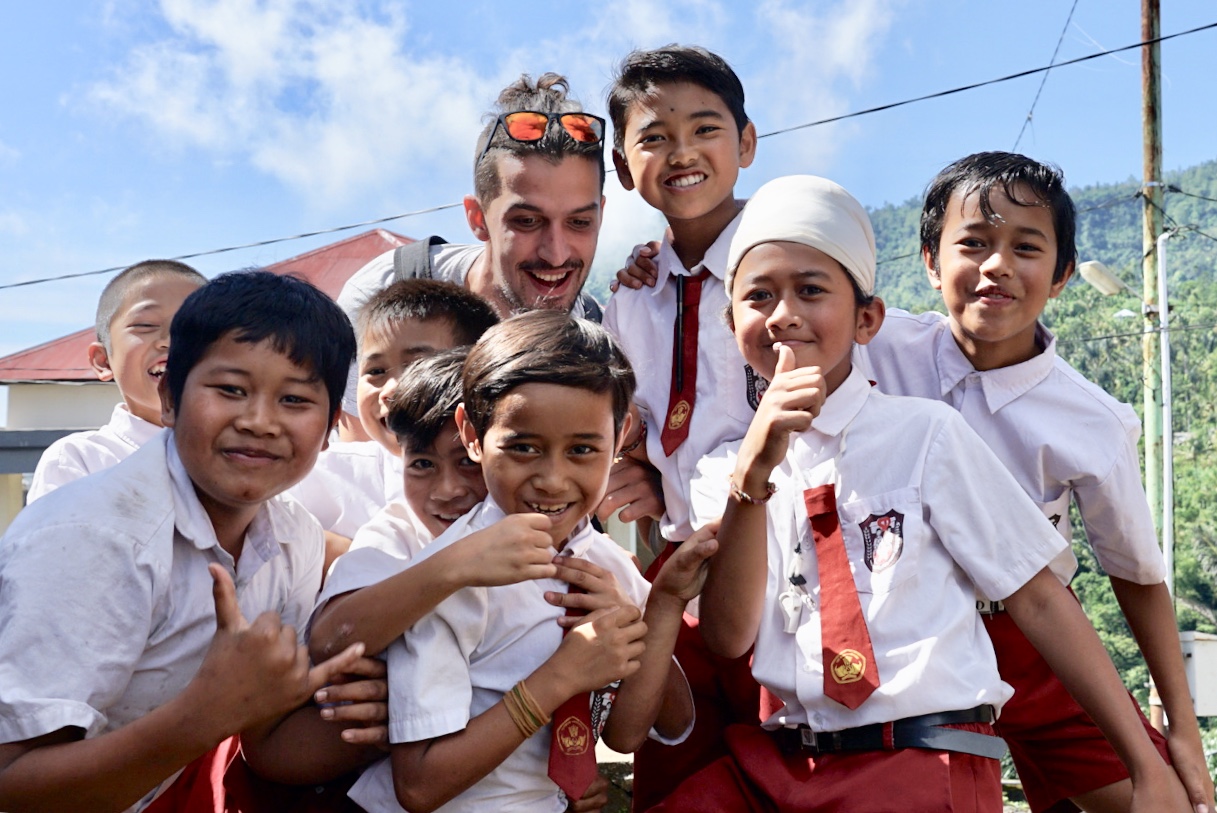 Here at Mudita headquarters, we truly believe that education is the only medium that can truly break the cycle of poverty both in Bali on this project, but globally. So while Bali is indeed a paradise for many, there is another side which most of us never see. When the curtain is drawn back, for most of Bali's rural population, life is very different from the emotive images portrayed in bright tourist brochures. Here, in stark contrast, there are no sparkling coral beaches, only hour upon hour of back-housebreaking toil in the oozing mud of the rice terraces, interspersed regularly with colorful, complex rituals overseen by priests to ensure the gods look favorably on the people and the endless cycle of labor. These rituals, and the offerings which always accompany them, take hours of labor, mostly on the part of the women. Even in heavily visited areas, there remain many families who see little of the economic benefits tourism supposedly brings. Our continued projects here hope to alleviate that, in any tiny way we can. Refurbishing a school and building a library can allow children within these rural communities to flourish, and to begin to dream of a life beyond Bali. So let's help them. One project at a time.
1
Day 1
Arrive in Bali anytime. Sunset dinner and drinks while we catch our first Bali sunset, beachside.
2
Day 2
After brekky, we'll head on our private bus to our partner community. We'll use the time to get to know each other a little better, and prepare ourselves for the hot & sweaty work ahead! En route, you'll get your first Bali waterfall so keep your swimmers handy! Once we arrive, we'll check-in, where our project leader will brief you guys about just why we're working with them, the good that your money has done, and the work that you've signed up for.
3
Day 3
Day 1 on our project. First things first, we'll have our local coordinate walk us around the community to help us understand why we've partnered with the, You'll get to meet the local family and see how they live in beautiful Bali. After that, it's back to school as you undertake a Bahasa lesson (the language used in Bali), don't worry it's not too strenuous, but it's great to be able to communicate with thanks when you're working hard here. As many of our returners can testify, the projects can be hard work, so we hope you're ready. Depending on how far the construction has progressed with the local staff we have been hiring over the last few weeks, jobs can include lugging bricks, shifting sand, painting the buildings and of course playing with the kids.
4
Day 4
The second day of the project. Hopefully, your body isn't hurting too much, and you kept the sunburn at bay. After our first project day, day 2 should be a breeze. You'll know exactly what you have to get done in order for the project to be ready to open. So hop to it!
5
Day 5
This one could be an early start! It depends on how hard we've been working but today is the opening day! So if we've stayed on top of our workload, we'll work all morning, have lunch and then have a local religious opening ceremony to bless your generosity and graft. If we've fallen behind, we'll be up at sunrise to get here and get the work finished. Let's do it, folks. After the ceremony, we'll pop to a local jaunt for lunch and then make our way to many people's favorite spot in Bali, Ubud.
6
Day 6
Welcome to your first morning in Ubud, Bali's gorgeous cultural center. A morning yoga class should be just what the doctor ordered before you're brought back to our favorite rice terrace lunch spot. The project may well have taken more out of you than you know, and the emotions of giving the kids their first-ever library are something special, so the rest of the day is yours to do as you please. With $10 massages (or less), and endless cute little stores dotted around the walkable town, your day off is ready and waiting for you.
7
Day 7
Time to see just why Ubud is the place on everyone's lips at the moment. We're off to explore Ubud and its surrounding and within an hour you'll understand where all the hype comes from. First stop, meet some very mischievous friends at the monkey forest. If you've never had a monkey jump on your back, this morning will probably change that! As we move on, there are Bali's most famous rice terraces, some of the most beautiful Balinese temples you can imagine, and your first Balinese waterfall. Keep that camera battery charged.
8
Day 8
Today is your big photoshoot! A day-trip to the very, very Instagrammable Nusa Penida. Nusa Penida is a relatively undeveloped island south-east of mainland Bali. You won't find the snazzy beach clubs, organic cafes or trendy restaurants here, but Nusa Penida is still worthy of a visit. It houses some of the most photogenic sights in Bali. Tonight is our last night in Ubud, happy-hour Pina Coladas are on the cards team.
9
Day 9
Goodbye Ubud. It's been emotional. We're off on our way south to Seminyak and Canggu, but not before we squeeze in another of Bali's most beautiful waterfalls, and a couple of viewpoints. Wow Bali, you truly are beautiful. Although we have something to rival that beauty, all that hard work, and tears, all that sight-seeing in Ubud, you deserve something, special ladies, so enjoy checking into our gorgeous villa for the next 3 nights, complete with a private pool and staff. We're going to put on a feast for dinner tonight (on us) for you ladies too, so hope you've worked up an appetite. PS Have a 1-hour massage on us to jump start your beach-filled relaxation. Massages will be at our private villa, where the masseuse comes to you. Just fill in the timesheet and request your time, and it's done. You earned it!
10
Day 10
Life's a beach! If you can pull yourself away from the villa (it's tough, be warned) we have transfers organized to take you to the beach for an optional surf lesson. Hang ten! After that it's off to Bali's best day-bar 'Potato Head', from there you can stay and sample the cocktails, or grab a bite and move on to the beach. Alternatively, sleep, tan and lounge in the villa. Either way, soak it up, tomorrow is the last day!
11
Day 11
The villa looks good, and a late breakfast sounds even better. Enjoy your half day-off. Did we mention you can order massages to come to you in the villa? Yup! Or rent a scooter, get some ice cream, or tan those buns on the beach. We have a gorgeous half-day tour ready for you after lunch, finishing up with sunset by the famous Tanah Lot temple, then it's a lavish group dinner on us back at the villa so save enough energy for our last night this evening. Tears? We fully expect them!
12
Day 12
We're less than an hour from the airport so that teary goodbye isn't too drawn out at least. We're pretty confident you've just signed off on one of the best trips of your life, and we'll see you on the next one! Unless…
Lombok has just as much to see and do as its popular neighboring island of Bali.  We take on the best of the place on an island in a few days. Epic mountain vistas and then some rest and recovery on the scenic beaches of the Gili Islands. Hiking, water sports, and some relaxing with a cocktail while watching some of the best sunsets in Indonesia.  Pack in all into this few day adventures.
Arrival City

Denpasar

Departure City

Lombok

Not Included

International Airfare

Lunch & Dinner

Travel Insurance