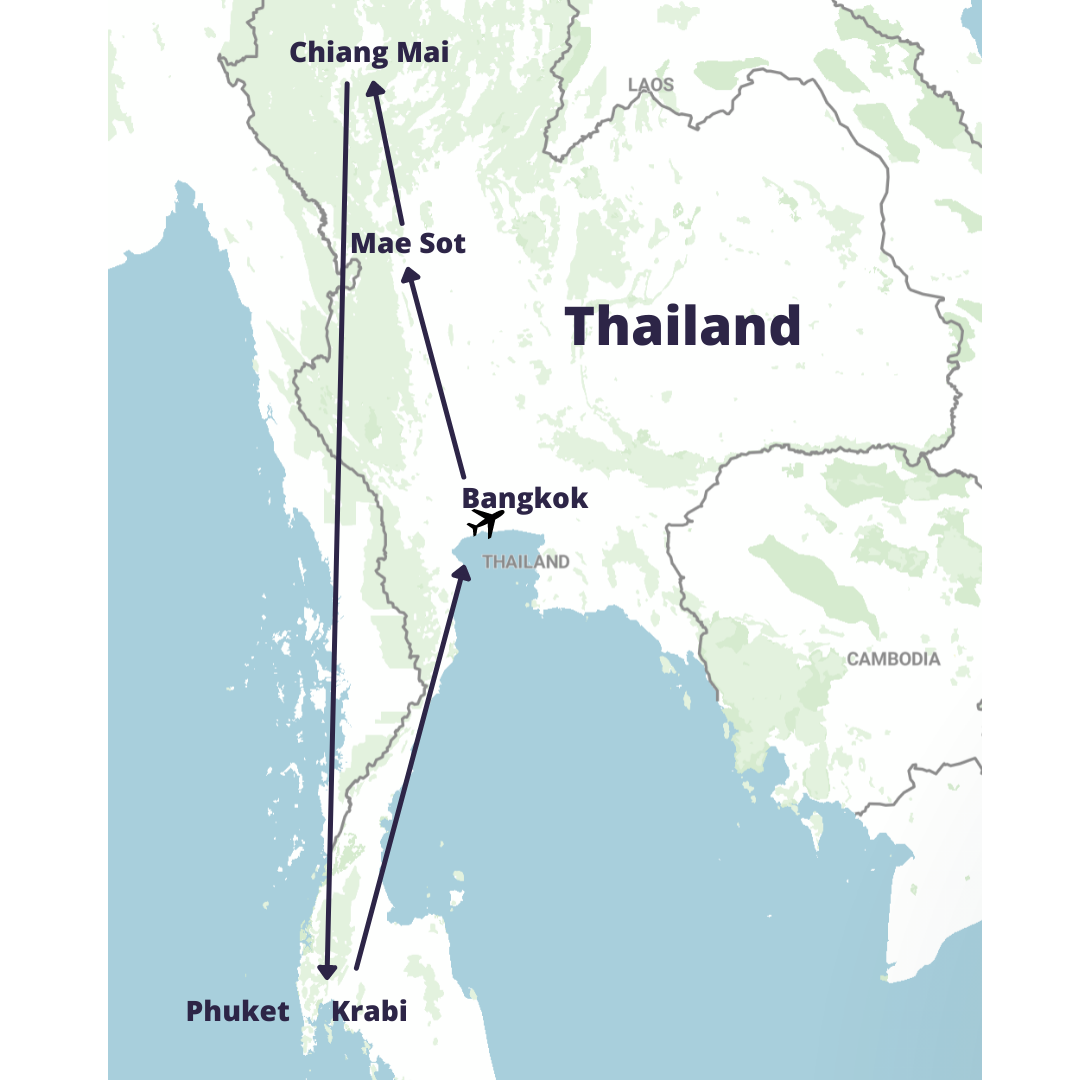 Elephants in their natural habitat, ancient temples, clear blue waters, bustling night markets with delicious food, and all with the backdrop of a charity project on the Myanmar/Thai border.  All this and a lot, lot more on your giveback trip to Thailand to leave a meaningful impact on the  Burmese ethnic minorities who have fled their country and since made Thailand their home. And then discover the best of this incredible country.
You'll experience Chiang Mai, the rose of the North, in all its glory. Along with a donation and visit to Asia's most famous Elephant sanctuary, saving elephants from unethical practices for more than 2 decades. And then it's off to the Thai islands. Azure blue water, epic karst cliff-tops, and maybe even a few Beer Changs on the beach.
Arrival City

Bangkok

Departure City

Bangkok

Included

All Accommodation

Private Luxury Boat Trip

Elephant Sanctuary Visit

Temple Entrances Fees

Experienced Guide 24/7

Trip Swag

International Flights

Domestic Flights

All Breakfasts

Transportation

Thai & Karen Language Lesson

Airport Transfers

Not Included

Lunch and Dinners

Travel Insurance

Visa

Add-On Available

Turnip Extension - Full Moon Party & Bangkok!
Kick back in Krabi, Thailand's most beautiful spot. The photos you've seen on Insta? This is it. Now, did someone say Happy Hour?

Watch the sun set on the Andaman coast, and on our epic trip, from a private boat off the coast. Signing off the experience in style.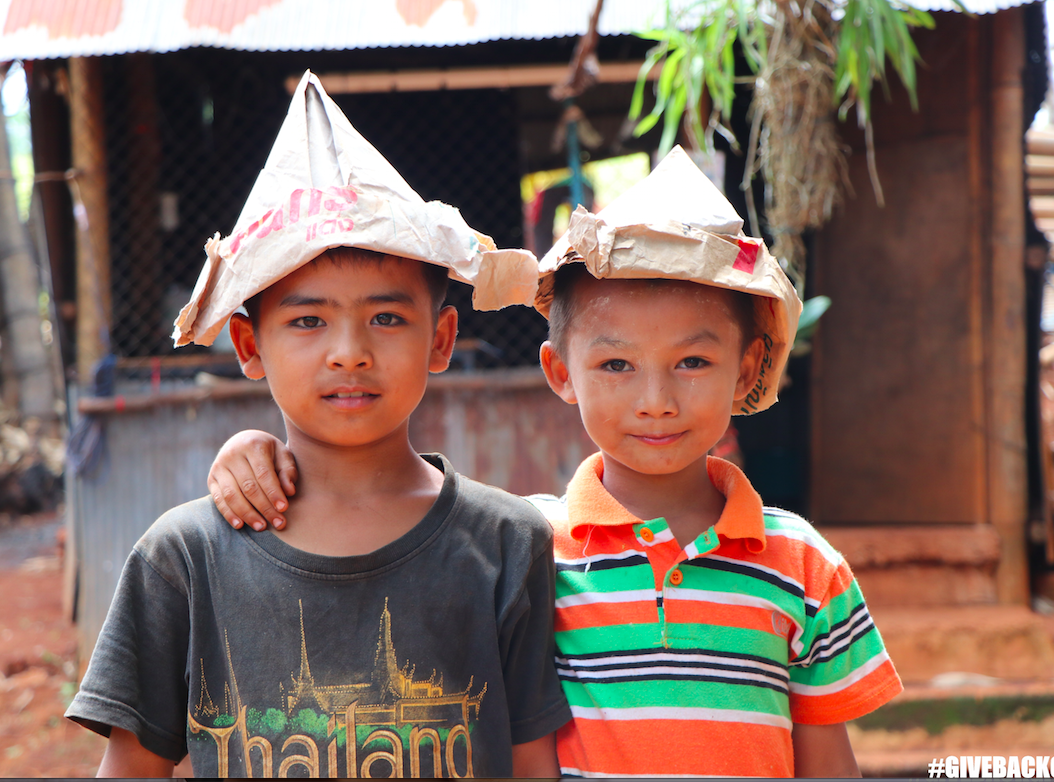 In the town of Mae Sot, lies our partner community, and with the delicate issues regarding nationality, languages, and religion the Karen tribal people often find themselves stuck in the middle of governance. With that, arises budgetary issues, so thanks to all your donations, and coming on our trip, we can step in and help them. The priority at the moment is the dormitory for the young adults hoping to break the cycle of poverty, ratify their education and give themselves a chance at the Thai higher education system. Currently, their sleeping conditions as they study are tough.  Sleeping 6 to a room, on 1cm matts on bamboo flooring, very little protection from rainy season and even less from mosquitos, carrying Malaria and Dengue Fever. We have hired local engineers and labourers to construct a new dormitory for the community, so the young adults can sleep in peace and focus on their studies. Come and help us finalise the dormitory, paint and furnish it, landscape it, and watch how an upgrade in the sleeping facilities can empower the youth within the community.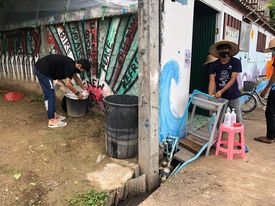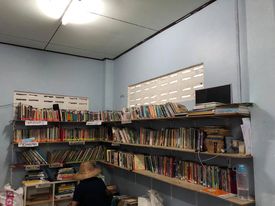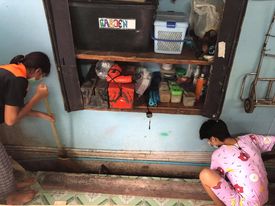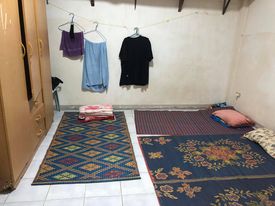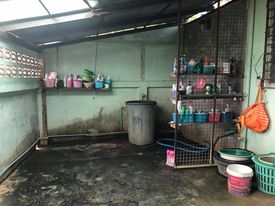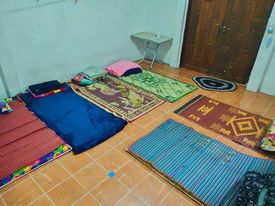 1
Day 1
Arrive in Bangkok in the evening. We'll be waiting for the team at the airport and bringing you to your hotel. After 24 hours on the road, a sleep has never felt so good.
2
Day 2
We say goodbye to the Big Mango and hop on a propellor plane north to the Burmese border. From the airport, we'll check into our hotel for the next few nights of our project, then make our way to visit the community we'll be working with. Here we'll have a debrief from our project coordinator, David, himself a former Burmese refugee.
3
Day 3
Day 2 on our project. As many of our returners can testify, the projects can be hard work, so we hope you're ready. Depending on how far the construction has progressed with the local staff we have been hiring over the last few weeks, jobs can include lugging bricks, shifting sand, painting the buildings. If we're behind schedule, it's time to dig deep.
4
Day 4
The third day of our project visit. Hopefully your body isn't hurting too much, and you kept the sunburn at bay. After our first full day yesterday, day 3 should be a breeze (don't hold us to that!). You'll know exactly what you have to get done in order for the project to be ready to open. So hop to it.
5
Day 5
This one could be an early start! It depends on how hard we've been working but today is opening day. So if we've stayed on top of our workload, we'll arrive after breakfast and await the village elders to inaugurate the finalised construction, and have a local religious opening ceremony to bless your generosity and graft. If we've fallen behind, we'll be up at sunrise to get here and get the work finished. Let's do it folks. After the project, it's a beautiful drive through the national parks of central Thailand to reach perhaps our favourite spot in the whole world, Chiang Mai. We've organised dinner on the river for the group, we've all earned a slap-up Thai dinner after the last few days of hard graft.
6
Day 6
Finally some time to yourself! You've got the day off in one of the most charming places in the world. A lazy morning, followed by some pool-time, shopping, or a $5 Thai massage. Depending on how strong those cocktails you were drinking last night were, a little R&R is exactly what the doctor ordered. Group dinner for happy hour as the sun sets behind Chiang Mai's mountain temple is the perfect end to a chill day.
7
Day 7
Often the highlight of the trip, and a real privilege for all of us – today we go to Thailand's original Elephant Sanctuary. As responsible tourism has developed, thankfully Elephant Riding is on the decline. We visit a sanctuary where the founders give elephants the chance to escape that old life, and live the rest of their days with the friends and family in peace. Bring even more joy to their life by feeding them endless bananas, washing them in the river, and learning about their journey here. Back to Chiang Mai for the evening.
8
Day 8
Wake up in the Rose of the North. If you're early, you have time for one last massage, or dip n the pool. Then we're off to Thai paradise. Of all the photos you've seen of Thailand, the longtail boats, the epic waters, they're nearly always Krabi. Now it's your turn, don't miss the flight! Beers on the beach await tonight.
9
Day 9
Rise and shine... at any time you want. Just a short stroll to the beach and you have the day to do nothing. But with optional activities from rock climbing to para-sailing, today can be as adventurous (or lazy!) as you desire. This is the Thailand that people fall in love with. Chill days, mango smoothies, riding scooters. Paradise.
10
Day 10
Our final farewell. We have a half-day afternoon boat trip. Snorkels, ice boxes, and tunes supplied. It's our last day, and night, on the islands so let's give it our best goodbye! We'll watch the sunset from our private boat, then we'll head in to the party spot and sign out of Krabi in style.
11
Day 11
For those not extending their 'Turnip in Thailand' adventure, tonight is the last night of the trip. But don't worry, it's something pretty special. One night in Bangkok. The City of Angels is world-famous for its street food and its nightlife, and our team will show you both, by the bucket load! Roof-top bars, food off the stick, until the last one is standing. It's been a blast team.
12
Day 12
The last day?! Already?! How did that happen? Airport transfers and you're outta here. Until the next time....
Turnip Extension - Full Moon Party & Bangkok!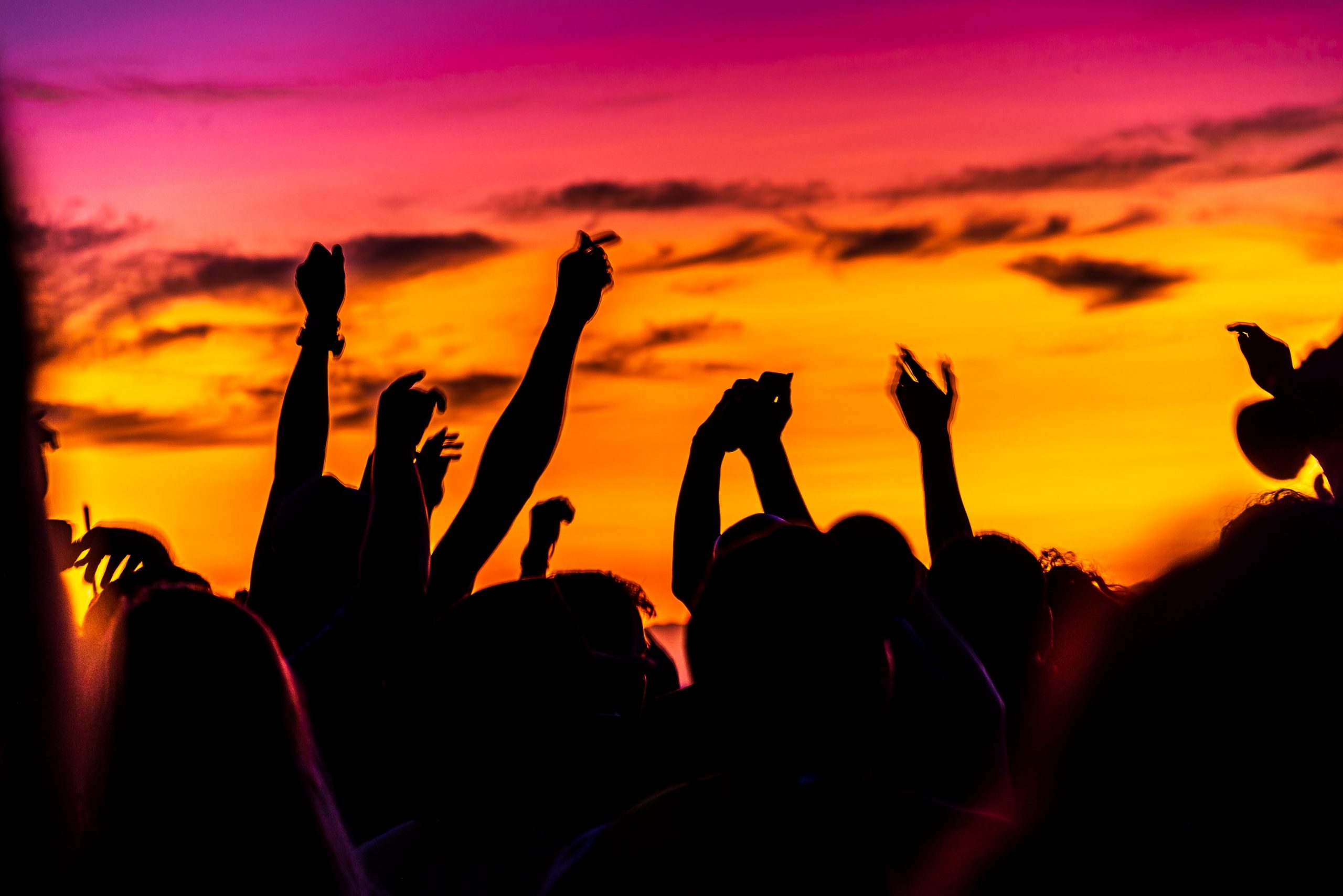 Koh Samui + Bangkok Extension Complete your Thai adventure with 2 of the best spots in the country. Thailand's most luxury island, Samui, with beach clubs and waterfalls awaits. We'll have a day trip to the full-moon party of Koh Phangan, and explore the island by scooter. But you don't gte off that lightly, the last 2 nights are in Thailand's City of Angels. Learn from 2 of it's locals about just why the street food, and infamous nightlife, are oh so famous. Rooftop bars, tuktuks, and buckets of cocktails. Bangkok's got you now.
Arrival City

Krabi

Departure City

Bangkok